Intuitive & Essential
research solutions
SURVEYS. ONLINE FOCUS GROUPS/IDIs. MEDIA TESTING.
Simplify the path to game-changing insights with Mercury Analytics. Whether you need full-service support, access to our extraordinary media and messaging tools, or access to our analytics platform, we are innovative research and technology experts who get it.
Global. Fast. Targeted. Easy.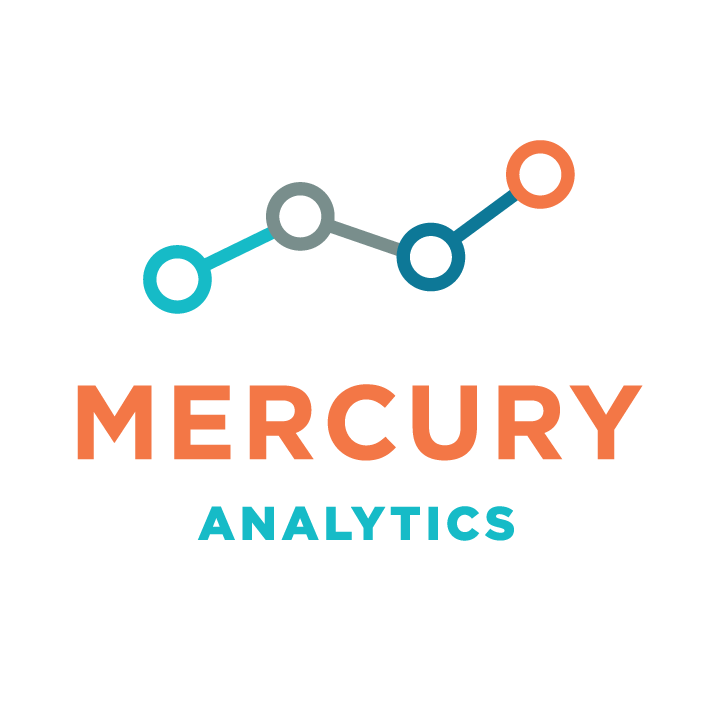 Who is Mercury Analytics?
We are a company of expert, agile, and creative research and tech professionals who are constantly innovating. Through cutting-edge technology backed by decades of research expertise, we enable easy access to better insights for better decisions.
Explore your research options with Mercury Analytics:
Mercury Analytics' clients include many of the world's leading research and strategy experts across
PR/Communications, Advertising, Political, Consumer Goods and Media/Entertainment.


Rapid results for clients.
Better insights for analysts.
All at the push of a button.
Experience AI Done Right.
The all-new Mercury AI delivers the ease & speed of instant qualitative analysis built directly into your research workflow. Included at no additional cost with all full-service qual or quant projects.
Private & Secure: Your Proprietary Data is Protected
Controlled & Focused: Designed to Interpret Your Data Alone
Available in Minutes: For Your Rapid Review and Approval
ANALYTICS WORKBENCH
ANALYTICS WORKBENCH
MERCURY HAS PERFECTED AND LEADS THE INDUSTRY IN ALL FORMS OF MEDIA AND MESSAGE TESTING, PROVIDING BREAKTHROUGH MOBILE-FRIENDLY TECHNOLOGIES. ON OUR SECURE ANALTYICS WORKBENCH, DATA VISUALIZATIONS FOR ANY AUDIENCE SEGMENTS CAN BE GENERATED IN REAL-TIME AND DOWNLOADED WITH A CLICK.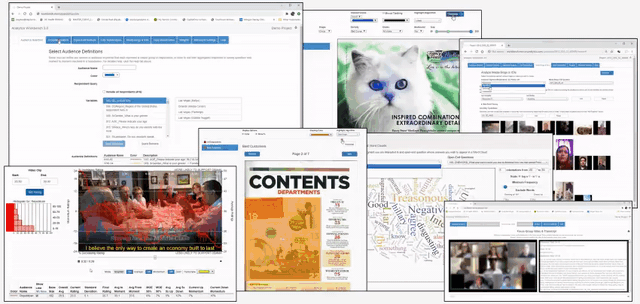 M2M DIAL TESTING
M2M DIAL TESTING
MERCURY'S M2M DIAL-TESTING TECHNOLOGY LEAPFROGS COMPETITORS', ALLOWING MOBILE FRIENDLY MOMENT-TO-MOMENT TESTING OF SHORT AND LONG FORM VIDEO AND AUDIO CONTENT, COMBINING UNIQUE AND INNOVATIVE MEDIA RATING TECHNIQUES WITH BREAKTHROUGH REAL-TIME DIAL-TEST VISUALIZATIONS, VIEWABLE INTERACTIVELY OR DOWNLOADABLE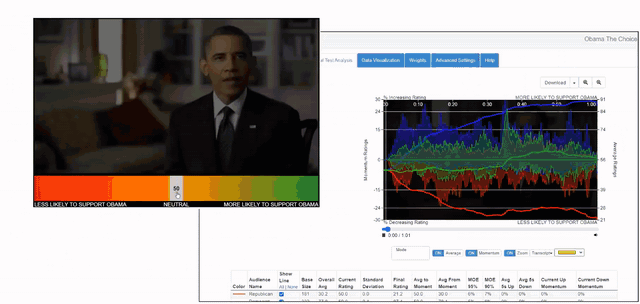 MESSAGE TESTING
MESSAGE TESTING
DO YOUR MESSAGES RESONATE WITH THE AUDIENCES YOU HOPE TO IMPACT? GET THE FEEDBACK YOU NEED WITH MERCURY ANALYTICS' TEXT HIGHLIGHTING MESSAGE TESTING.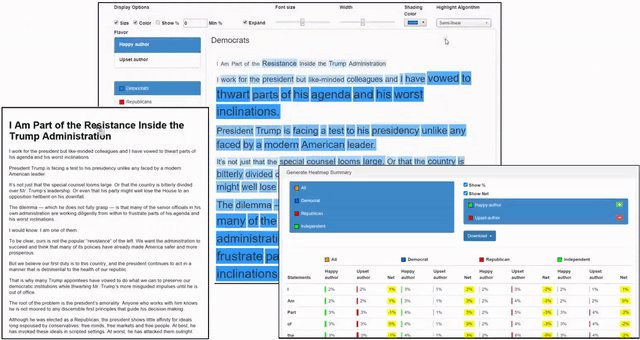 SPOTLIGHT IMAGE TESTING
SPOTLIGHT IMAGE TESTING
TEST PRINT ADS WITH EASE THANKS TO MERCURY'S SPOTLIGHT IMAGE TESTING. SHOW PARTICIPANTS AN IMAGE AND LET THEM CLICK OR TOUCH (IF ON MOBILE) THE AREAS THAT THEY ARE MOST INTERESTED OR THAT THEY DON'T LIKE.
IN REAL-TIME, VIEW HEATMAPS FOR ANY AUDIENCE SEGMENTS, WITH MANY VISUALIZATION OPTIONS.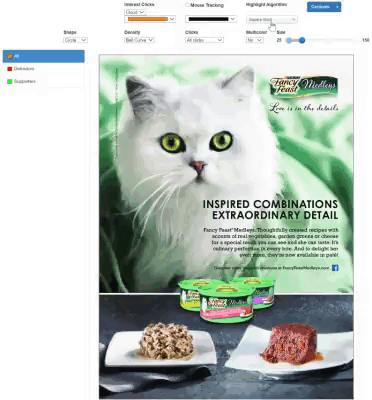 MEDIABLOGS
MEDIABLOGS
MEDIABLOGS, MERCURY TECHNOLOGY THAT ALLOWS RESPONDENTS TO SUBMIT SELFIE VIDEOS THEY RECORD ANSWERING THE SURVEY'S MOST CRITICAL QUESTION, ADDS TRUE QUALITATIVE "ONE-ON-ONE" STYLE INSIGHT TO ANY QUANTITATIVE SURVEY – ALL FROM WITHIN A STANDARD QUANTITATIVE SURVEY.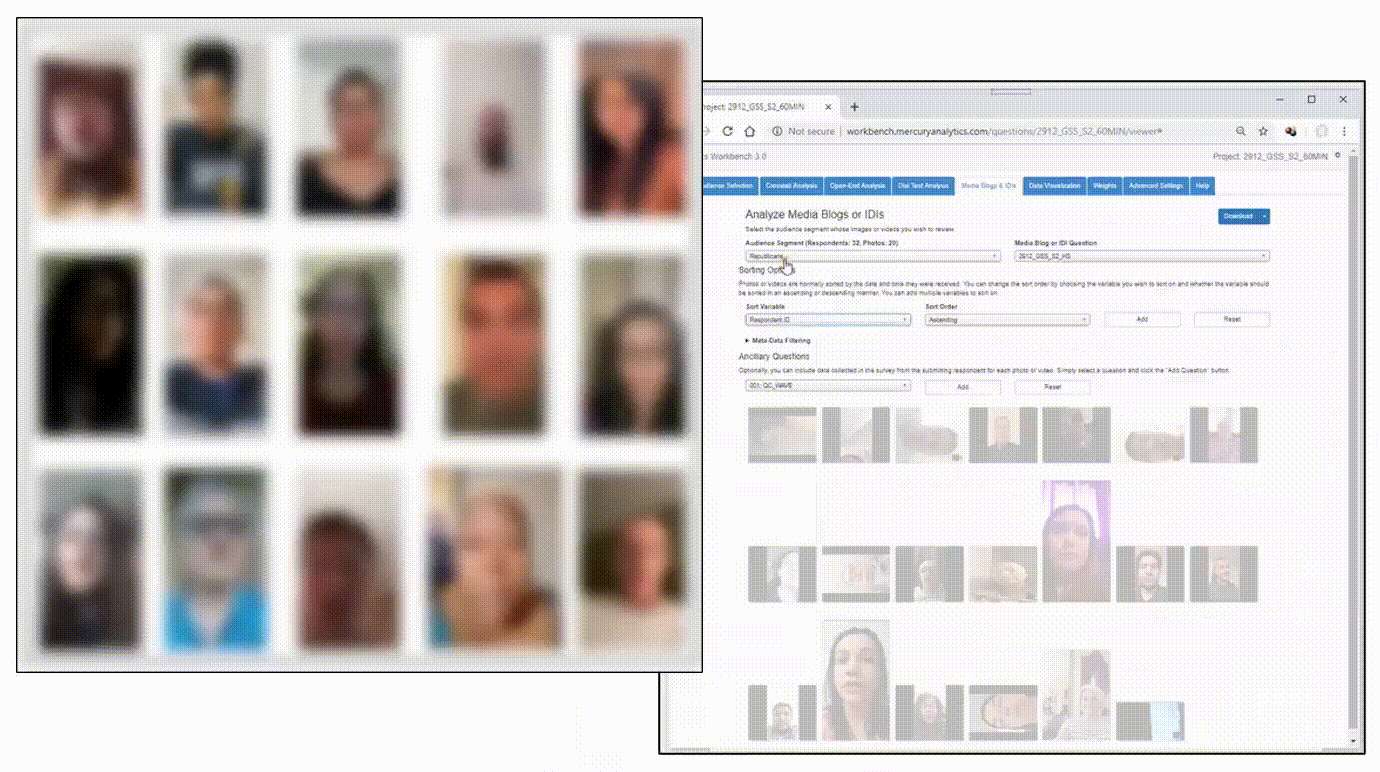 FLIPBOOKS
FLIPBOOKS
MERCURY'S FLIPBOOKS PRESENT MULTIPAGE PRINT MEDIA IN A NATURAL WAY THAT ALLOW RESPONDENTS TO SEE AND FLIP EACH PAGE IN A MANNER THAT EMULATES THE PHYSICAL TURNING OF PAGES, BOTH FORWARD TO THE NEXT PAGE OR BACKWARDS TO THE PREVIOUS PAGE.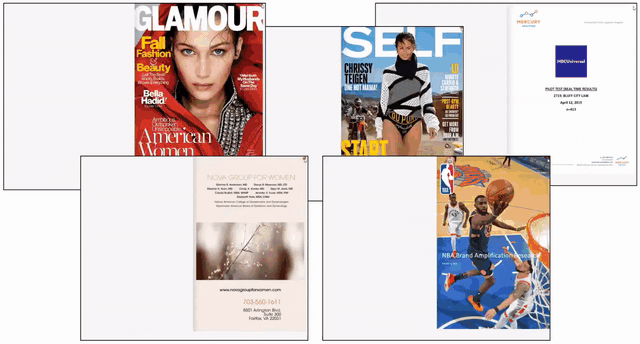 QUAL TOOLS FOR QUANT STUDIES
QUAL TOOLS FOR QUANT STUDIES
WHILE EVERY RESEARCH SYSTEM CAN ASK SIMPLE OPEN-END QUESTIONS TO CAPTURE QUALITATIVE RESPONSES, MERCURY TAKES IT TO THE NEXT LEVEL BY AGAIN PROVIDING BREAKTHROUGH CAPABILITIES THAT DRAMATICALLY INCREASE THE WAYS QUALITATIVE OPINIONS CAN BE CAPTURED AND UNDERSTOOD TO DERIVE OPTIMAL INSIGHTS.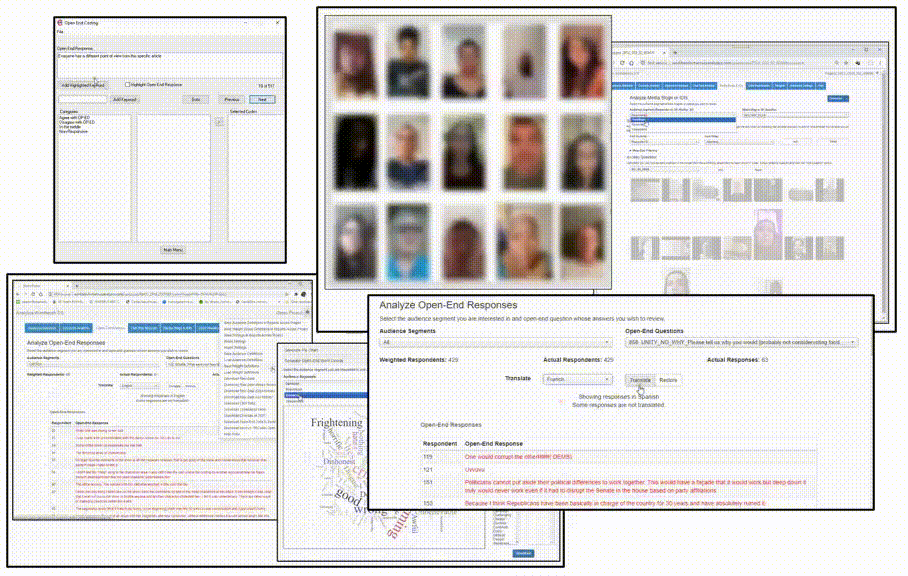 LIVE LABS ONLINE FOCUS GROUPS
LIVE LABS ONLINE FOCUS GROUPS
MERCURY'S LIVE LABS ONLINE FOCUS GROUPS TAKE QUALITATIVE RESEARCH TO THE NEXT LEVEL. NO TRAVEL, RAPID RECRUITING AND EXECUTION, OVER-SAMPLE OF QUALIFIED PARTICIPANTS, ADVANCED MEDIA & MESSAGE TESTING, RECORDED & STREAMED, FULLY MANAGED BY MERCURY.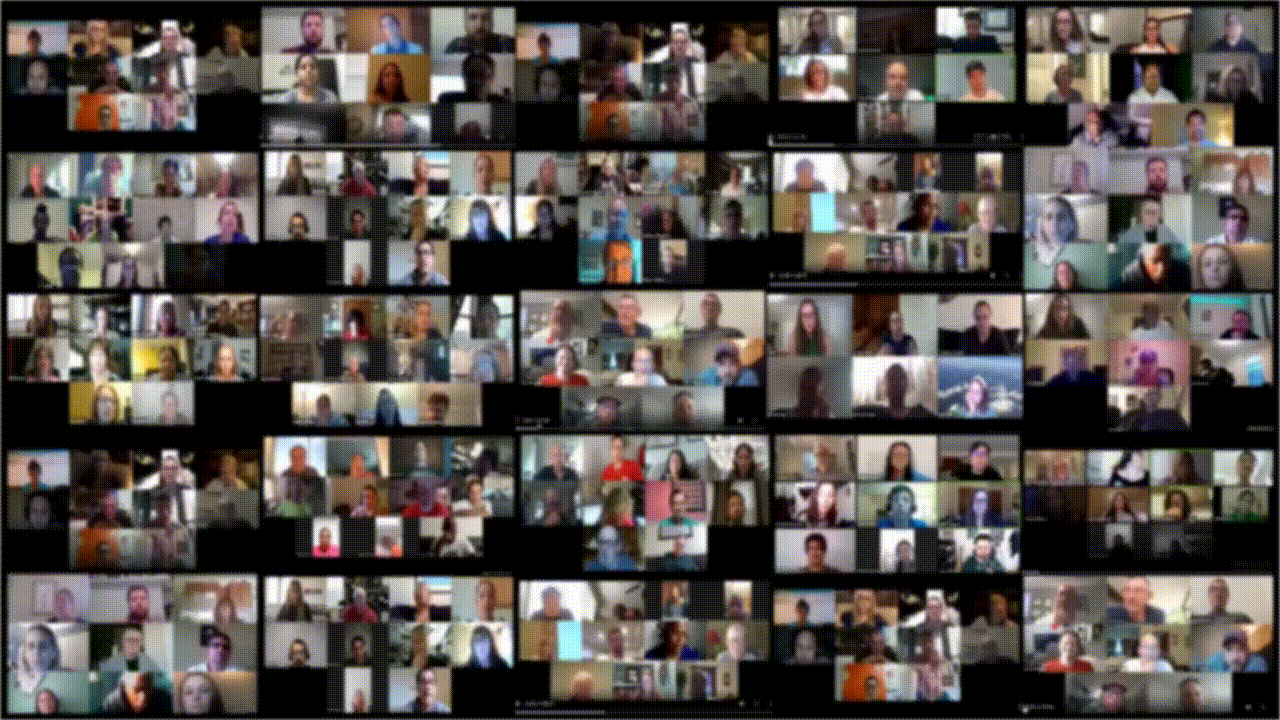 Not sure where to start? Talk to Mercury about research solutions.
platform only ♦ supported projects ♦ guided research + insights
Explore Mercury
Political Campaigns
Explore Mercury
PR, Media & Crisis Comms
Explore Mercury
Advertising, Television & Film
Explore MercuryBrand Management
Explore Mercury
Private Equity & Financial
Explore Mercury
API & Platform Integration
let's connect today.
better technology. better insights. better decisions.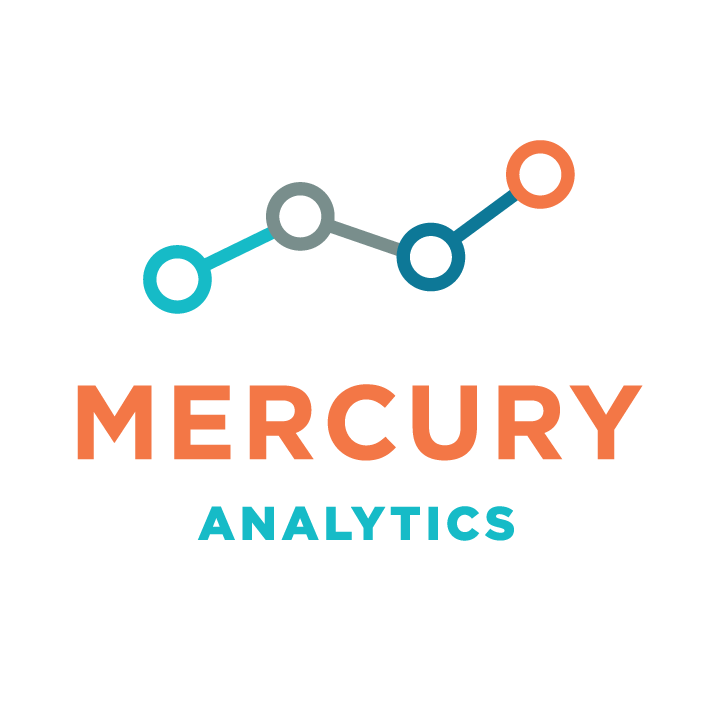 1120 20TH ST NW. SUITE 350

WASHINGTON, DC 20036
202.386.6322 EXT 2