Overnight National Research Among 1606 U.S. Respondents
On February 28, 2021, Former President Donald Trump spoke at the Conservative Political Action Conference (CPAC).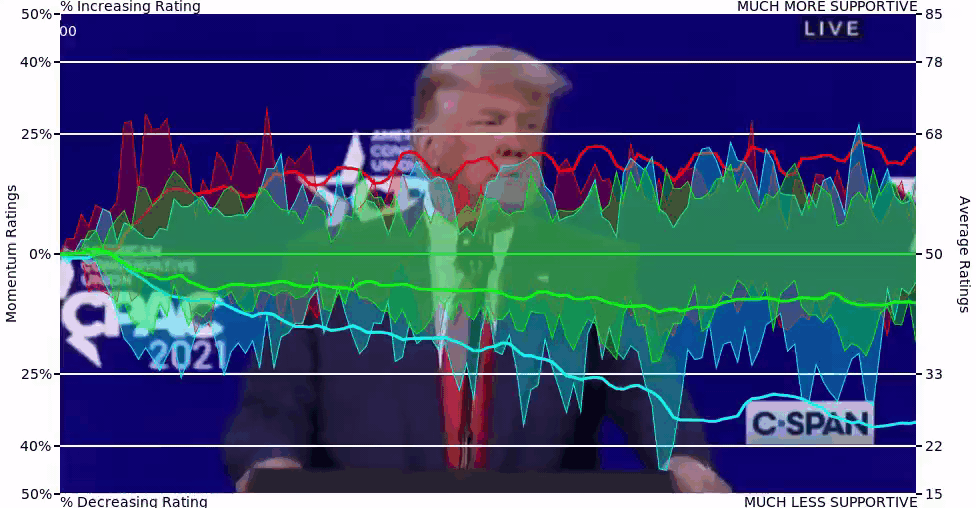 Trump at CPAC – How IT WENT
Yesterday's CPAC marked former President Trump's first appearance back in the limelight since President Biden took office on January 20. Responses from an overnight national survey of 1606 respondents revealed Republicans', Democrats', and Independents' attitudes towards Trump. Moment-to-moment dial testing went a step further and revealed what about his CPAC speech stood out to these groups, both positively and negatively.
Republicans are still in Donald Trump's corner: 77% want Donald Trump to run for President in 2024, 85% want him to lead or influence the Republican party, and 78% find his voice helpful to the Republican party.
When we dug a little deeper into the CPAC speech, our dial testing showed which moments made viewers more supportive and less supportive of Trump.
Trump's tone, hyperbole and self-aggrandizing has been written about and analyzed at length: Does it help with his base voters? Does it turn off moderate Republicans? Does it ultimately tamper his support? His major talking points in this realm seemed to lessen his support among Republicans based on our testing. 
REAGAN:
The sentiments of Republicans across the board did not match up with the CPAC crowd when they started chanting "We Love You", after which Trump went on to compare himself to Ronald Reagan. His support dropped sharply among all political affiliations:
ENDORSEMENTS:
The reduction in support rang true again when Trump claimed to be the best endorsement for a Republican running:
HITTING REPUBLICANS:
Support also went down among Republicans when Trump hit out at the Republicans he viewed as being "against" him (those he probably wouldn't endorse!):
HITTING DEMOCRATS:
It may make sense that Republicans didn't like Trump hitting other Republicans, but they also moved negatively when Trump was hitting Democrats, indicating feelings about his negative rhetoric against both parties:
ELECTION RULES:
When Trump rehashed the election fraud that he's been claiming, his support went down. He blamed the "China-virus" leading the Democrats to change election laws, and Republicans, Independents and Democrats became less supportive:
ILLEGAL IMMIGRANTS AND DECEASED VOTERS:
When he claimed dead people and illegal immigrants were voting, support went down:
KEY STATES:
When he claimed there were more votes than people in key states like Pennsylvania and Michigan, support went down:
ELECTION REFORM:
Contrastingly, when he talks about concrete election reform, support went up across the board:
POSITIVE ACROSS THE BOARD:
This was true across the board. Trump's support numbers moved positively when he mentioned successes of his administration, from energy to economic recovery to the military.
2020 CAMPAIGN TALKING POINTS
Another interesting result of the moment-to-moment dial testing was how some of 2020's big talking points from both parties resonated with members of different parties. When Trump said "we are not defunding the police", a rebuke to many Progressives' campaign promises, support for him ticked up across Republicans, Independents, AND Democrats:
When Trump mentioned Democrats, socialism and communism in two instances, there were large dips in Republicans and Independents' support for Trump. Many Republican campaigns were centered on their Democrat opponents being socialist.
Mercury Analytics conducted an overnight survey including dial-tests of Former President Donald Trump's speech at the Conservative Political Action Conference (CPAC), which took place on the evening of February 28, 2021 in Orlando, Florida.
Trump spoke for approximately 90 minutes and addressed the accomplishments of his administration, criticized the Biden administration, condemned Republicans that spoke out against him, and continued to air his grievances about the legitimacy of the 2020 election.
Mercury's study tested Trump's performance among a national sample of n=1606 of US adults aged 18+, split evenly among Republicans, Democrats, and Independents. Respondents were first asked a series of demographic questions followed by questions to help understand respondents' current views on politics in America, and specifically on Trump's role in the Republican Party. Next, respondents shown one of six randomly assigned speech segments.
As participants watched each commercial, they moved a slider just below the video to the right the more supportive they were of Donald Trump, or to the left the less supportive they were of Donald Trump. They also had the option to push a button that would identify a when they wanted to 'BRING HIM BACK!' or when they were 'RELIEVED HE'S GONE!'.
Before the close of the survey, respondents were asked post-exposure questions to again assess their views on Trump's role in the Republican Party.
For more information on Mercury's dial-testing, click here, and for more technical information about the study, please contact Jordan Kraft or at 202-386-6322 x 322.
let's connect today.
better technology. better insights. better decisions.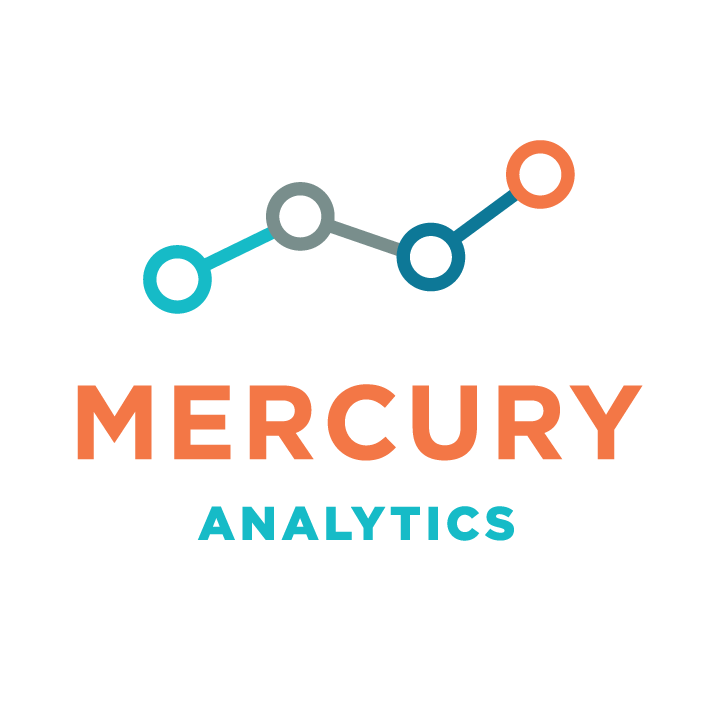 1120 20TH ST NW. SUITE 350

WASHINGTON, DC 20036
202.386.6322 EXT 2